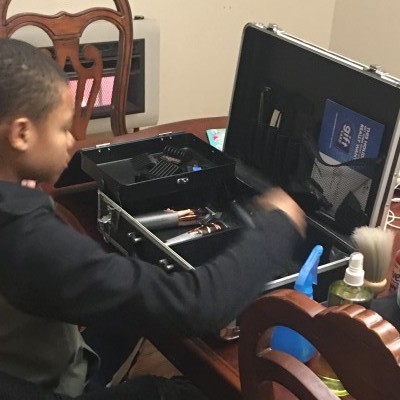 What tools should You Get to Start Practicing Barber skills
In this article we will go over some basic clippers and accessories we recommend for beginners. There are plenty of valuable tools for barbers that will daze and amaze you, however, if you are serious about cutting you can begin with any particular brand to make it happen, as you begin to sharpen your skills. So this post will be specific to our recommended brand for beginners. I have been cutting hair for over thirty years mostly magnetic clipper cuts and am presently engaged with teaching our entire team of barbers and specifically our young weekend children barbers beginning at the age of seven.
Brand Name Tools or NOT?
Is it truly necessary to get name brand tools? It really not necessary to purchase name brand clippers, however, starting out you do want to get quality tools which will allow you enough time to earn sufficient funds to purchase and experiment with new tools of your preference. Some people like corded clippers some like cordless, some like expensive and some inexpensive for whatever reasons, and there are pros and cons to all different sort of tools and prices. So to keep it simple the object is to get some tools which you are comfortable paying for, good quality and are known to last. this brings us to a good brand which has been around making barber tools for a long time, proven to last and are backed up by the company. That said our recommendations are to shop for a good fair priced hair cutting clipper and trimmer by Wahl. This is a well known brand which have been dominant here in the United states, especially in urban area shops where fashion and style are second to none. Known for being "Sharp" and unique, having our own styles, although this new modern chalk line and painting epidemic has evolved. More on that topic later!
Does the Tools Make the Barber?
So, although we recommend brand name tools for you to begin with, that doesn't mean you are the sharpest barber in the shop, like some of our students, however it gives you a good foundation. It also allows you to feel confident about your endeavor and learn to compare quality tools and accessories as a beginner. What makes the barber is a huge combination of qualities and skill which we mentioned in a few other post, be sure to check them out as there is always a bigger picture to becoming a barber. One need to know and keep in mind the role of a barber in the community, and that God Almighty's plan is superior to ours. As you grow over time you will begin to see the big picture of why you became a barber, and the specific role you and your clients play in each others lives. Choosing your tools is very exciting and fun but try to keep your focus on your skills and future goals so you can be a valuable benefit to yourself, organization and clientele.
Reasons for Our Recommendation
Our recommendations are based on over curly hair and not course hair however they may also be suitable for coarse hair types as well. The reason we recommend Wahl is due to there entry level reasonable pricing, availability and quality. We also found our parents and relatives using and practicing with these tools before us, over 35 years ago. So they have been and still are the basic, reliable tools which we began with, back then you were given clippers by family if you were serious about cutting. You can easily learn to customize and repair all types of Wahl products and doctor them up to our liking. Wahl products may not be the best however they have a nice big selection of new affordable clippers that parents won't mind investing in order for their children to learn a skill that will allow them to earn for a lifetime.
To give you an example we worked with raggedy hair cutting clippers and we performed a full haircut and then adjusted the blades like trimmers, what they call today a zero gap, and performed a full shape up without the use of trimmers, and to our surprise the cut was good and sharp as if we used trimmers.
The clipper arena has truly evolved and you can purchase just about any type of clipper imaginable today. And WAHL clippers have adapted and are now looked upon as leaders in the clipper industry, no offense to any other brands.
So our specific recommendations for beginners are the WAHL MULTI CUT CLIPPER COMBO Wahl 79111-1501 as your cutting clippers and trimmers because you really save and get two for the price of one compared to other clipper merchants. You should always search and compare a few models but make sure you get a pro version and not a home cut clipper. Home cut clippers normally come with cheap cords which twist up and short out. The recommended model clippers come with several attachments and accessories to make you feel good and prepare the barber in learning to fade.
If you rather not buy the bundle, just feel free buying them separately, just be sure to get a trimmer with w cord for beginners. Again this is only a recommendation for a beginner to easily acquire a reliable and economical start-up clippers. You are free to explore any other brand, if you prefer. We are mainly concerned that you find the proper tools and accessories.
Accessories for the Beginner
Next we just like to prepare the beginner with the necessary accessories they will need to complete all different hair styles. The accessories are very important because although some are used for skills others are needed for sanitary reasons and will be part of the actual state board barbers examination which qualifies the barber for proper licensing. So we actually have classes which prepare the students for licensing and we have an extensive list of items but here we just want to stick to the accessories relevant to beginning to familiarize the barber with the skill of handling tools, accessories, and proper application. So we recommend a barber cape, Wahl 3404 which covers the clothing, neck strips to cover the neck, a neck duster to dust hair from the client as they are being serviced. Also most of the clipper accessories and attachment comes with the clippers. You will need a clipper lubricant and cleaner, Wahl 3776, clipper cleaner which we recommend.

That's pretty much it besides scissors, Powder, antiseptic, and sterilizers, hair brush, pics and combs, spray bottles, which can all be found in a beauty supply store.
Practice your Skills
Now that you have your start-up package you are ready to learn the proper way to handle your tools and to follow all sanitary requirements relevant to the practice of barbering. So we recommend that you utilize our sites resources for videos, articles and ebooks on beginning fades, how to effectively shape up the hair we have several competent barber trainees who are frequently engaged with practicing their skill and preparing for their upcoming state board examinations. Please check out our content, like our videos and subscribe to our barber students channels. We have 360 wave training, temple fade master skills, special effect skills training and more. We upload new content regularly. So show us some love by navigating, commenting, suggestions, questions, requests, and so on…
Thank you for your support,
All the Best,
Omar Jamaladdin